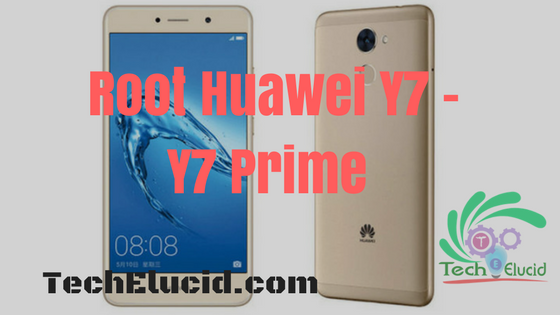 In this article, you Will Learn How to Install TWRP Recovery on Huawei Y7 – Huawei Y7 Prime and Root Huawei Y7. We will be seeing to root Huawei Y7 – Y7 Prime variants TRT-AL00, TRT-AL00A, TRT-TL10, TRT-TL10A, and TRT-L21A. See How to root Huawei Y7 – Huawei Y7 Prime with simple and easy steps. To root, First of all, we will unlock the bootloader secondly we will install TWRP and at last flash, SuperSU to root Huawei Y7 – Y7 Prime. Rooting is the way to obtain Right's on Android Devices, that means after Rooting the Phone You can unlock All features of the Device and you have Full Permission to Play with it. Rooting also the Best way to Save battery because after Root access you can disable system apps easily. After root, you can Modify system Apps and Setting. Follow Guide to Install TWRP Recovery and Root Huawei Y7
Root Huawei Y7 – Y7 Prime
To Root Huawei Y7 – Y7 Prime.  Huawei y7 is variant of Enjoy 7 Plus that was launched earlier by Huawei earlier and now to make it available worldwide Huawei Y7 Prime is launched.Huawei Y7 prime will come with 4000 mAh sealed and a massive battery. Huawei Y7 Prime's display screen is equipped with IPS panel. Equipped with Snapdragon 435 chipset which is accompanied with octa-core processor and Adreno 505 GPU for heavy graphics. A fingerprint sensor is available on the back side just below the main camera and it unlocking speed is just 0.3 seconds. Even with many apps running simultaneously, the user experience is always smooth due to 3GB RAM installed. Huawei Y7 and Y7 prime come in variants TRT-AL00, TRT-AL00A, TRT-TL10, TRT-TL10A, TRT-L21A. So let's get started but before that see precautions below.
Precautions Before Root Huawei Y7 – Y7 Prime
You should backup the data before rooting the device just in case you want to apply a hard reset and return the device to the state that it was in before you started.
Follow the steps correctly otherwise you may brick your phone.
If you have HiSuite installed on your PC. Then turn it off – make sure it does not run in the background.
Disable Lock Screen & Security patterns.
Disable antivirus on your smartphone if you have any.
This could void the warranty on your device. We won't be held responsible for anything that happens from doing this tutorial so please proceed at your own risk.
Make sure your phone has at least 70-80% battery to prevent the accidental shutdown in-between the process.
---
See Also our recommended reading:
---
Prerequisites
Download TWRP here for Huawei Y7 Prime
Download Super SU from here
Minimal ADB and Fastboot.
OEM unlocking in the developer options should be active.
Huawei HiSuite (installs all necessary drivers).
How To Root Huawei Y7 Prime
We are going too complete with all steps but first, make sure you enable all these settings.
Steps to root  Huawei Y7 Prime
Turn On USB debugging and OEM unlock.
Install TWRP.
Flash(Install) SuperSU from SD-card.
How to Turn On USB debugging and OEM unlock in Huawei Y7-Y7 Prime.
On your Huawei Y7 or Huawei Y7 Prime.
Go to Settings -> About.
Tap on Build Number seven times.
Go to Developer Options.
Check Enable OEM Unlock.
Check USB Debugging.
How to Unlock Bootloader in Huawei Y7 – Y7 Prime
A locked bootloader is one that will only boot operating system Android in our case which means that device's boot partition will only launch Android OS on your phone, No matter what happens user can't alter it. In case of devices with a locked bootloader, it is not possible to do custom operations like booting a Custom operating System.It requires the owner to first unlock the bootloader.
To Unlock Bootloader on Huawei Y7 – Y7 Prime
We have split the instructions into two steps. The first step involves Installing necessary drivers Like USB, Fastboot, and ADB to make the connection with your phone's hardware.The second step will guide you on how to unlock the bootloader on Huawei Y7 – Huawei Y7 Prime using fastboot commands.
Install Fastboot, ADB and USB Drivers on your PC.
Note down the IMEI number and serial number in Settings > About > Status.
Dial *#*#1357946#*#* on your phone and note down the product ID.
Unlock Bootloader of Huawei Y7 – Y7 Prime
Go to Huawei Bootloader Unlock request page in order to do that you need to create an account on the Huawei Official site then login to your account.(register if you don't have an account).
Agree to the terms and conditions and click Next button.
Now, Provide the required information about your device and click Submit button.
If everything is right, you'll get a unique 16-digit bootloader unlock password for your device.
Unlock Bootloader With Minimal ADB on Huawei Y7 – Y7 Prime
Note: Make sure the USB Debugging and OEM are enabled.
Now connect your Huawei Y7 – Y7 Prime to the PC with a USB cable and grant required permissions.
ADB REBOOT BOOTLOADER
Note: If your device doesn't boot into bootloader mode, then disable Fastboot function from your device's Settings.
Once your device is in bootloader mode, issue the following command to unlock the bootloader (Replace XXXX XXXX XXXX with your 16-digit bootloader unlock password).
fastboot OEM unlock  xxxxxxxxxxxxx
The bootloader unlocking process will start automatically.Once the process is finished, your device will reboot.
That's it; you have successfully unlocked BootLoader of Huawei Y7 – Huawei Y7 Prime.
If anything goes wrong or confusing to you see the detailed guide on How to Unlock Bootloader on Huawei Phones.
---